Solution Demos showcase Esus' Bespoke Strengths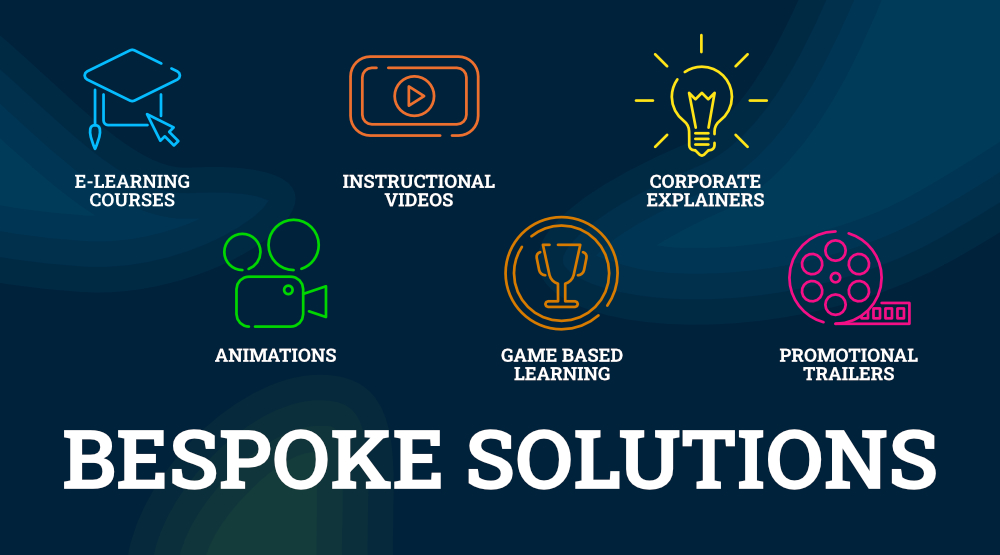 We recently created a number of solution demos to help us illustrate how we take the same source content and re-purpose & output it into multiple different formats. The solution demos are a great way of showing how there are multiple ways of addressing specific training needs. Developing generic demonstrations allows us to show a potential customer how each solution can be tailored to their specific requirements. The demos can also be used when responding to an enquiry or when we are looking to send information to a potential sales lead – instead of sending them a static sales deck we can send an interactive and engaging demo.
The creation of the solution demos came about as a direct result of the pandemic. As we were confined to working from home (or WFH as it is now fondly known ?) and did not have the ability to meet with clients face-to-face, we had to devise a more engaging way of conveying our offerings and we found the solution demos to be an excellent way of meeting that need.
To show how we can take source material and re-purpose it into multiple formats the solution demos we created are based on the exact same topic "Strong Passwords". This showed how source material can be transformed into a variety of formats that are memorable and that trainees want to consume.
All aspects of the demos were produced in-house including content creation, instructional design, graphic design, course authoring, voice over and interactions.
The suite of demos created include:
By using bespoke graphics, audio, video, animation and user-interaction we can develop courses which maximise material retention. Player controls, closed captions, an interactive quiz and resources are used in the demo to show this and fully engage the trainee.
You can boost learner engagement and leverage the desire for status, achievement, and competition by using game-based and gamified learning. The demo shows how timers, trophies, leader boards and game-effects can be used to great effect .
A process or system can be demonstrated in a real-world context using an instructional video. As seen in the demo, "live" footage can demonstrate best practice to the user, using different scenarios.
Complex processes can be demonstrated in a simple, dynamic and fun way by transforming graphics into memorable animations where character-driven illustrations can effectively tell a story.
An idea, initiative or process can be described in a simple, compelling way and quickly convey a lot of information through corporate explainers. As shown in the demo, engaging motion graphics can be used to grab the viewer's attention.
Raise awareness and socialise new initiatives using concise language & engaging visuals in promotional trailers. The trailer demo is intended as an accompaniment to the course demo i.e. it's there to show how it can promote uptake of the course.
The personal and bespoke nature of Esus E-Learnings approach means that face-to-face interactions will always be important but the pandemic meant that we, like many businesses, had to adapt. We developed a suite of solution demos to showcase the kind of content we create while also compensating for the inability to meet F2F during Covid. As a company who work with many multinationals, the demos allowed us to showcase our work whilst also adhering to the NDA's we have in place with our multinational clients.
Here is a short video we created to launch the demos:
Want To Know More?
We hope you found this post helpful. If you are looking for any advice or guidance in relation to e-learning, digital learning initiatives or moving learning online, the team at Esus are delighted to help in any way we can. Please contact Esus at info@esus.ie.
Get In Touch
We'd love to hear from you...