How To Boost Learner Engagement By Gamifying Your E-Learning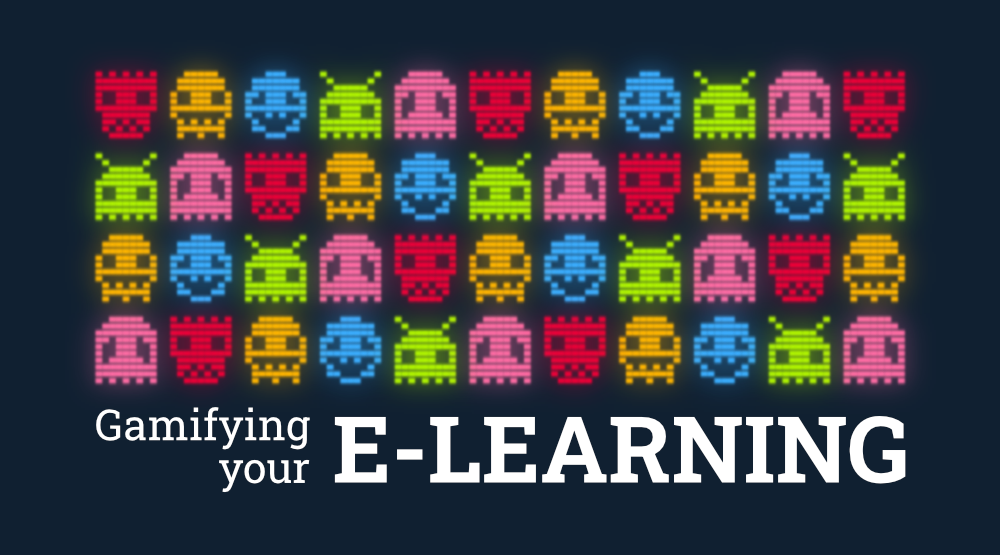 When it comes to training, employee engagement is one of the biggest challenges an employer faces. How do you get your team interested in the learning material? How do you hold their attention?
Gamified learning is immersive. Engaging your team in various challenges allows them to become active participants, motivated to make decisions and learn in a fun and interactive environment. Your employees are no longer passive readers turning endless pages in a training manual or clicking the dreaded NEXT button on yet another text-heavy e-learning course.
Gamified learning can be used to help you deliver practical and effective training on real-world processes that may otherwise have been too costly, too dangerous, or too complex to deliver. Applying gaming mechanics to non-gaming environments can also make difficult tasks more palatable and enjoyable.
We deliver gamified e-learning solutions across a wide variety of sectors including pharmaceutical, food & drink, healthcare, cybersecurity, entertainment and public sector. When working with our clients we ensure that all our solutions are loyal to their brand and audience appropriate. Let's look at some of the techniques we use when creating gamified solutions and the benefits of using gamified learning.
Techniques
Some of the techniques we use when developing Gamified E-learning Solutions include:
Sound Effects are used to convey positive or negative reinforcement keeping the learner informed of their progress and audibly stimulated. A little nostalgia can be added by using classic sounds from the past.
Once the Timer is set, let the games begin! This positive motivator will bring out learner's competitive side, pushing them into action by creating a sense of urgency to get the task completed before time runs out.
Simulations create an immersive and context-relevant environment. In this gamified world, the learner will need to make decisions to work their way through various scenarios.
As with any game, Point-scoring is a great motivator. Gamification gets your employees working hard to collect points or get the highest score, whilst also absorbing information and working through the learning experience.
Adding an Avatar will help the learner to connect with the course. Their avatar can be used to narrate or help with tasks as they work their way through the course.
Using built-in Maps, Signposts and Progress Bars allows the learner to see where they are at any given time, explore the course and keep track of their progress
Personalisation is a great way of getting buy-in from the user, ensuring that the learning experience is specific to the company and their role. This works at both a company and colleague level i.e. personalising the environment with custom drawn visuals to match the client's brand and at a user level by including their name, role etc.
Benefits
Some of the key benefits of gamifying learning include:
Makes learning a fun, interactive and positive experience.
Motivates and engages users to take action to complete an associated task.
Leverages trainees' desires for status, achievement and competition.
Rewards the user for completing a desired task.
Can be a fantastic point of differentiation from other learning initiatives.
Increases likelihood of repeat learner participation.
Excellent material retention and more practical subject immersion.
Creates a high level of engagement with trainees.
Keeps trainees involved by minimising 'passive' learning activities.
Allows learners to experiment with different choices and actions in a safe environment.
Facilitates deep learning, increasing the likelihood of material being retained for a longer time.
Allows trainees to apply their problem-solving skills to resolve the issues.
Experimentation helps trainees learn through failure i.e. provide multiple paths to success.
Sample Project
We recently developed an interactive e-learning course for a global leader in the Food & Drink sector. This included gamified scenarios, giving learners the opportunity to work through real-life examples. This allowed them to see the consequences of, and receive detailed feedback on, different actions taken when handling sensitive data.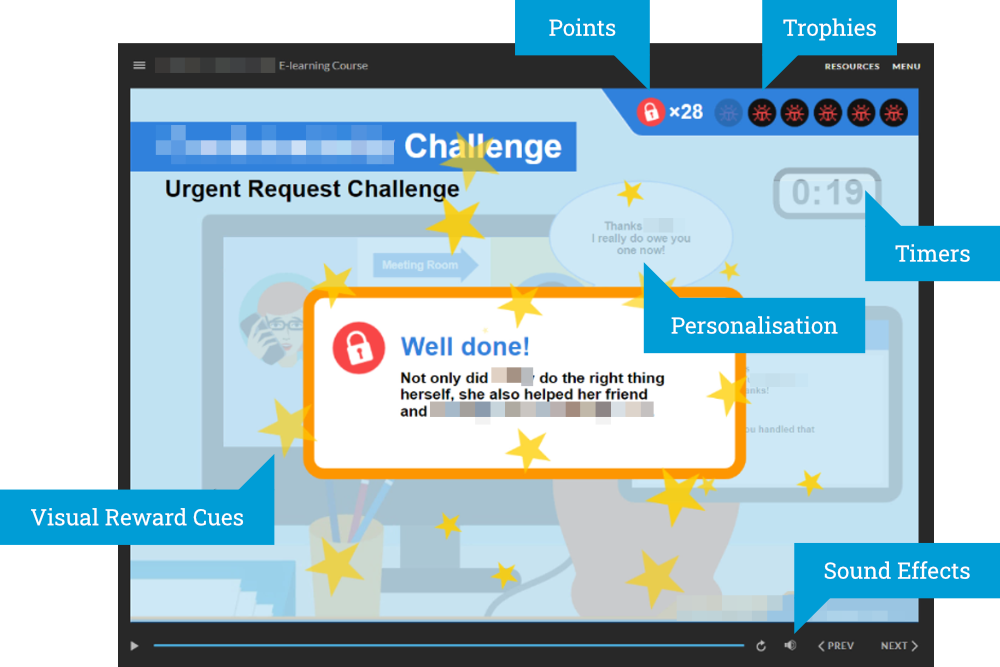 Client Feedback
The course was rolled out to approximately 2000 colleagues and received excellent feedback, a sample of which can be read below:
"I don't know who put this training together, but I really want to complement them on it being what I think is one of the best & most effectively designed online trainings I've done in 11 years at [redacted company name]. The content, the script, the graphics, the gamified scoring, the pace, the natural tone of the narrator & the simple access to support resources all made what could otherwise be a tedious & boring course on very important topic, much more engaging, interesting & therefore memorable. As someone who works in the European Team and handles restricted and confidential information every day, it's refreshing to see the topic being taught in such an engaging fashion while losing none of the key message. Sitting in [redacted client info] where we handle restricted data all the time & on occasion, see it mishandled by colleagues who don't fully grasp the implications of how they share information, I think it's really excellent & should be shared more widely in [redacted company name].
Game Demo
If you'd like to experience first-hand how timers, trophies, and game-effects can boost learner engagement, you can play our Game demo here: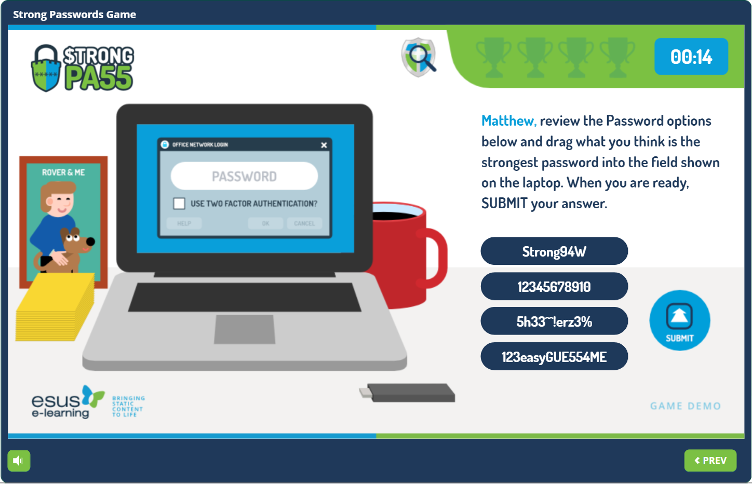 Want To Know More?
We hope you found this post helpful. If you would like more information on gamifying your learning and how it can benefit your organisation, please contact Esus E-learning at info@esus.ie

13/10/2016
Those of you who have worked with esus or were aware of our activity would know
Get In Touch
We'd love to hear from you...