Launch of New Esus E-learning Website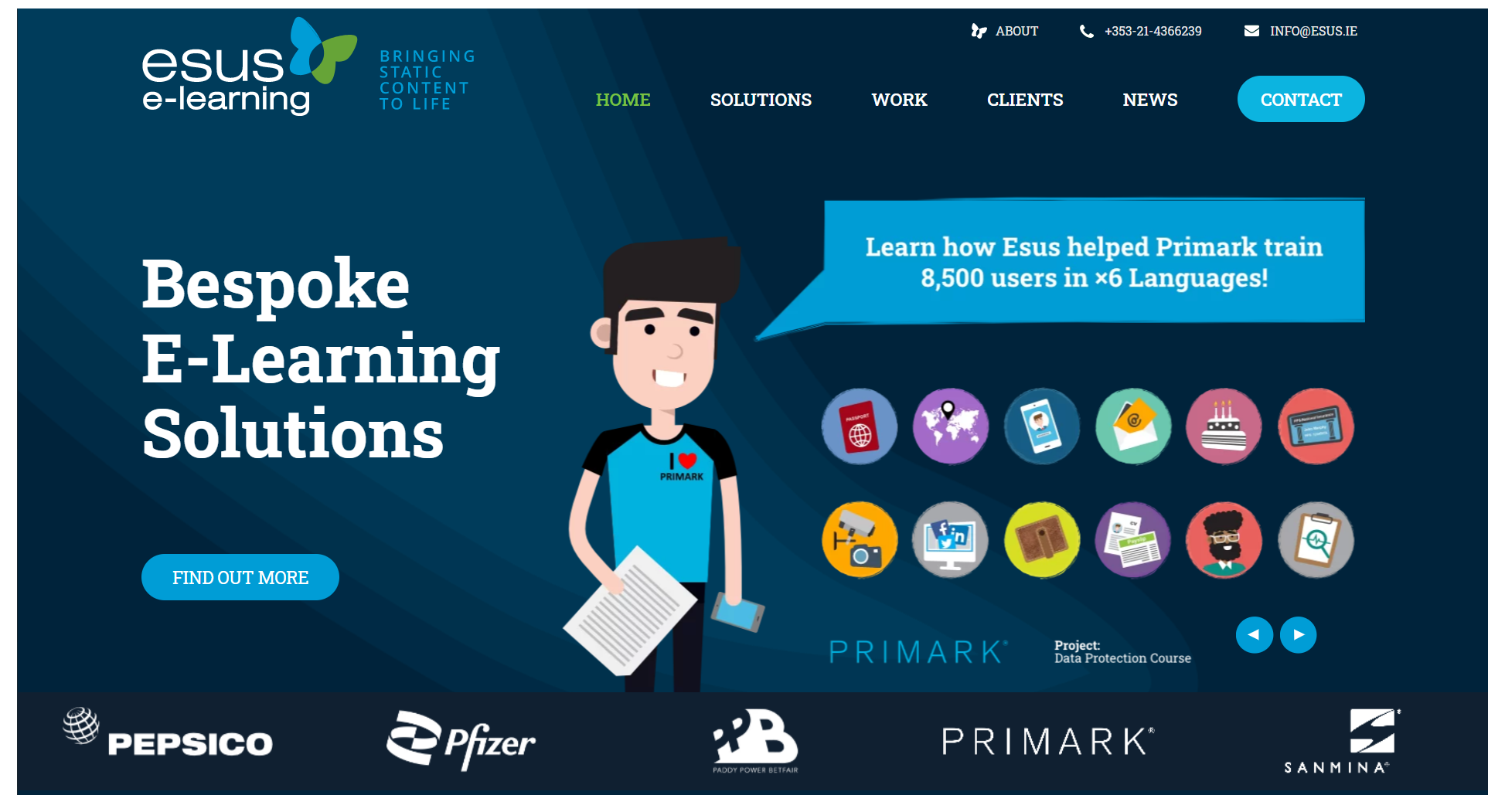 After many months of great intentions but slow progress, we have eventually finished and launched our new website at esus.ie.  The new site reflects our diverse range of bespoke e-learning solutions, includes a broader selection of sample work as well as testimonials from happy clients.  Some of the new site's highlights include:
Solutions:
Full details on the range of solutions we provide to our clients can be found on the new site including use cases, benefits, features, testimonials, and sample projects.
Solutions Demos:
To illustrate how we can take source content and re-purpose it into multiple different formats, we've developed a number of new solution demos, all of which can be seen on the new site.
Services:
Descriptions of our end-to-end services can be found here including scope analysis, writing e-learning content, instructional design, graphic design & illustration, course development, voice over and translations.
Sample Work:
We have expanded our work section to show a wider selection of sample projects covering all solution types including E-Learning Courses, Corporate Explainers, Animations, Instructional Video, Game-Based Learning and Promotional Trailers.
Clients & Testimonials:
We have the pleasure of working with global brands, both in Ireland and internationally across a range of industries for over 17 years. Here you can read some of the feedback we have received from clients, for which we are very thankful!
News:
An up-to-date news section has been added to the new site and we plan on updating on a regular basis with a range of company news, new sample projects, industry news stories and tips & tricks on all things e-learning related.
If you would like to know more about Esus or and would like to find out how we can help your business, please contact us using our enquiry form, call us on +353-21-4366239 or email us on info@esus.ie.
We promise to get back to you ASAP and look forward to hearing from you!

13/10/2016
Those of you who have worked with esus or were aware of our activity would know
Get In Touch
We'd love to hear from you...