Esus complete global "Flash to HTML 5" conversion project for 300 courses
Esus recently completed a project for a global client where we converted elearning content for over 300 courses from Adobe Flash to a SCORM-compliant HTML 5 format. Courses covered a broad spectrum of topics and included multiple language translations including Russian, Brazilian Portuguese, Latin American Spanish, and Chinese.
With Flash no longer being supported by browsers (since Dec 31, 2020) and with a lot of historical e-learning content having been created in Flash, our client needed their content migrated to HTML5.
Depending on the importance and priority of the digital learning content, we took 2 approaches to the migration project:
Option 1 – For lower priority courses, we converted them using a "Rapid Authoring" approach. This involved us converting the courses to MP4 video format and 'wrapping' them in a SCORM file to play on the client's LMS. Although the content for those course is now HTML 5 compatible, they function differently from the original Flash course.
Option 2 – For high value / high demand courses, courses were converted from Flash to "Fully Compatible" HTML 5 equivalents using Articulate Storyline. This option involved converting the courses on a 'like-for-like' basis to Articulate Storyline. All interactive items including quizzes, assessments, clickable elements, downloadable documents etc. were retained and function as per the original Flash course.
We devised a detailed process for the Migration Workflow which met the client's following objectives:
It allowed all content to run on all major browsers, and mobile devices.
It ensured a seamless switch from Flash to HTML 5 across all courses.
It ensured all courses were functionally identical and all interactivity was retained.
It allowed each course to be readily updatable after migration should content changes be required.
It ensured all courses complied with accessibility standards for learners with disabilities (e.g. allow screen readers, options to add in closed captions, etc.).
It ensured each course runs on the same bandwidth and will not require higher specification than the Flash original.
It allowed each course to make use of the latest e-learning standards for navigation, player controls, and interface design.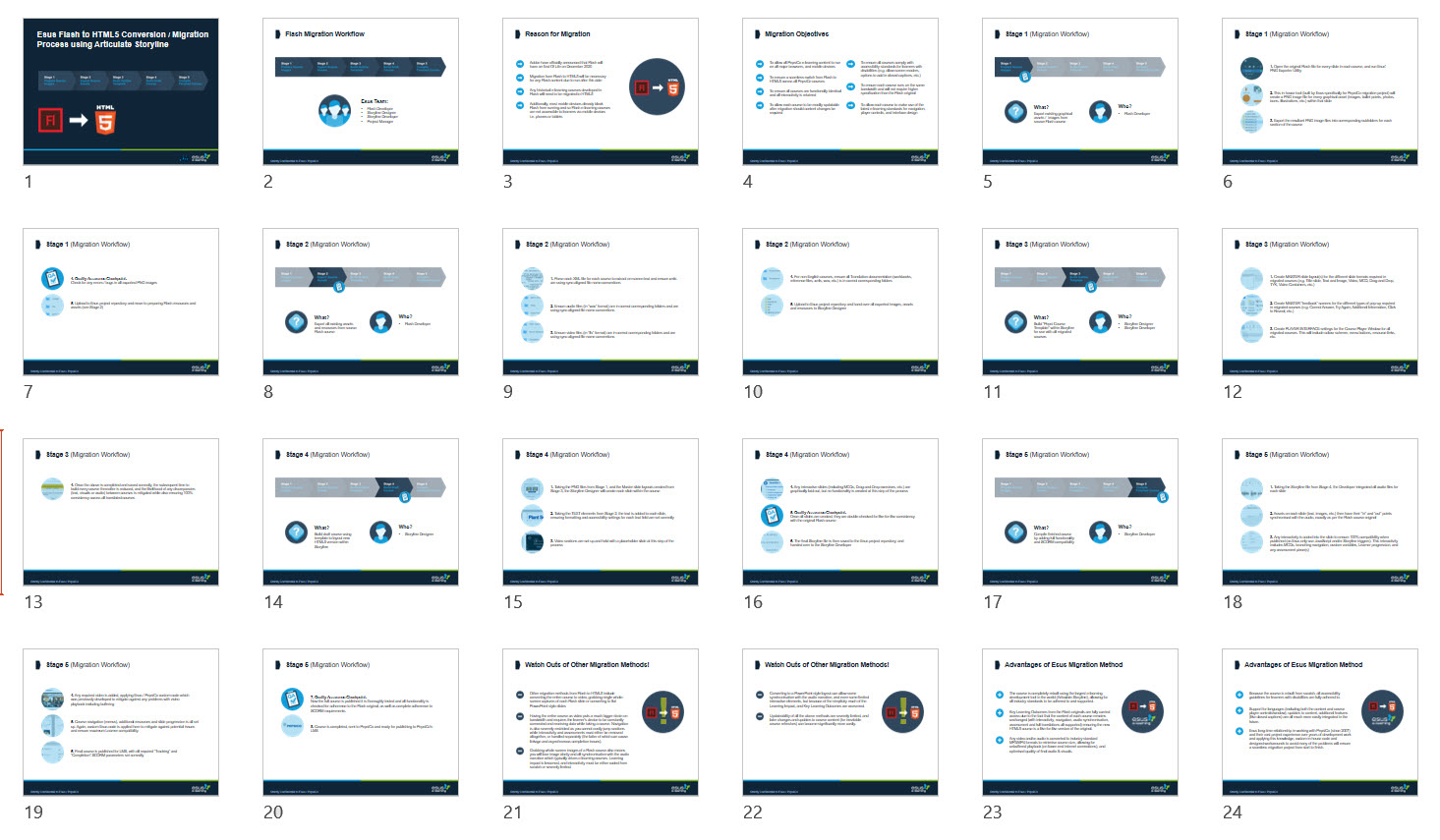 For more information on our Flash to HTML 5 migration services, please contact Esus at info@esus.ie.

13/10/2016
Those of you who have worked with esus or were aware of our activity would know
Get In Touch
We'd love to hear from you...