Dignity At Work E-learning Course to support a global initiative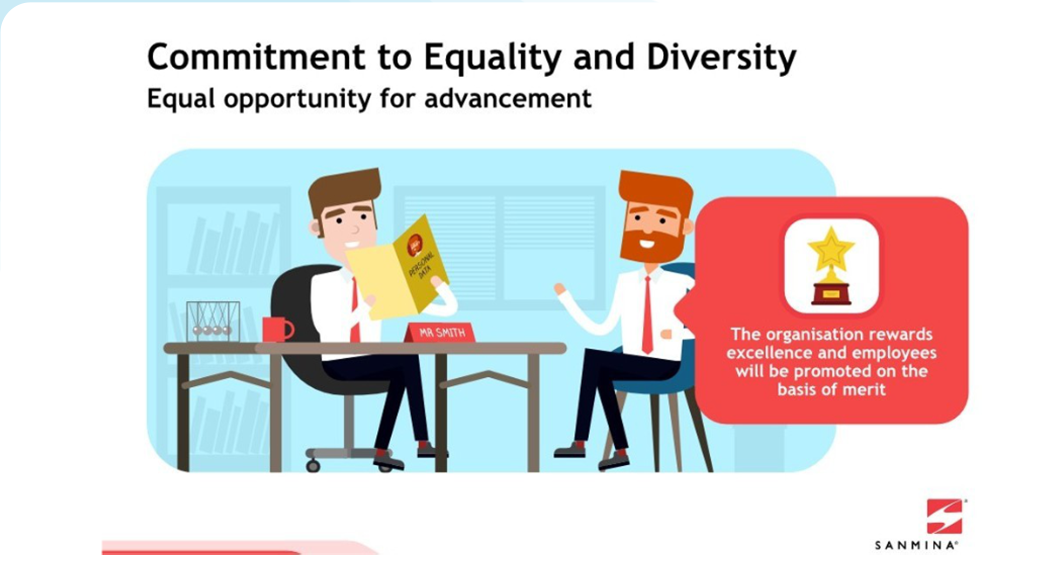 Esus eLearning were recently contacted by Sanmina, a leading global manufacturer of medical devices, to create a Dignity at Work / Bullying & Harassment E-learning Course. The purpose of the course was to support the rollout of their Dignity at Work policy to the 600+ staff based in their state of the art facility in Fermoy, Co Cork. The policy rollout was part of a wider global Dignity At Work initiative and Sanmina wanted an e-learning solution to promote their key messages effectively.
The existing Dignity At Work Policy document was lengthy, comprising over ten pages of dense text which created a considerable training challenge from an information-retention perspective. Esus worked closely with Sanmina to distil the source information into a format that was significantly more engaging and that would enable the user to understand and retain all of the key points quickly and easily. The resulting Dignity At Work digital learning course creatively repurposed the policy document's key content to suit the online, self-paced, format.
The course contained custom-drawn illustrations along with visually powerful images and graphics that engaged and retained the trainee's attention throughout. Additionally, voiceover was included to convey key points on screen and to further enhance the learning experience and engage the user, interactive elements were included.
The course was successfully rolled out to their 600+ staff and it has since become a key vehicle for Sanmina in the promotion of their Dignity At Work Policy throughout the organisation. Esus received glowing feedback on the finished e-learning course, their project management process and on their professional and friendly interaction with Sanmina throughout the project.

13/10/2016
Those of you who have worked with esus or were aware of our activity would know
Get In Touch
We'd love to hear from you...