Translating E-Learning Content – Benefits, Best Practice and Process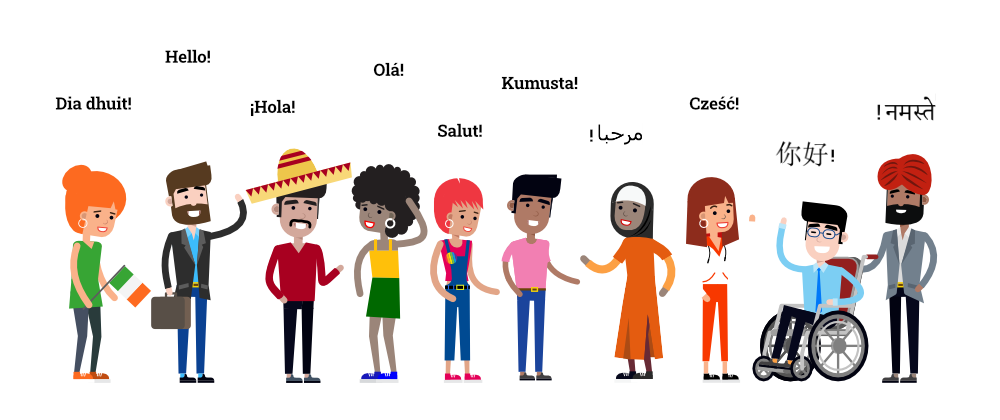 The translation of e-learning content is essential in today's globally connected workforce. As the pandemic accelerated the move towards online learning, so too did the need to translate content for local consumption.  When trainees can consume e-learning content in their own language, they will more easily understand, engage with, and remember the material.
As one of Ireland's leading bespoke e-learning content agencies, we have had the pleasure of working on a number of projects that have required the translation of digital learning content to ensure real impact at a local level.  These projects incorporated a range of e-learning methodologies including rapid course production, game-based learning, learning infographics, explainer animations, and embedded video.
The Benefits of Translating and Localising E-Learning Content 
We've seen first-hand the importance and benefits of translating content including:
Increased Accessibility: By translating e-learning materials, you can reach a much larger audience. Localising digital learning and development content for colleagues ensures that it is accessible to a diverse set of learners.
Inclusivity: Translating e-learning content ensures that language isn't a barrier to acquiring knowledge, thus promoting inclusivity, nurturing diversity and contributing to your company's global success. To attract the best possible talent, employers need to signal to potential candidates that they are joining a company where their culture and who they are is not just a box that is ticked in their employee file. By talking to your employees in their language, you are ensuring  they feel seen and heard. We've worked on numerous dignity at work and diversity and inclusion e-learning courses for Irish clients over the last number of years so really understand its importance.
Better Understanding: People grasp concepts better when explained to them in their own language. Hence, translating e-learning content can enhance the learner's understanding and improve material retention.
Cultural Sensitivity: Translated content can better reflect other cultures and languages, so promotes multicultural understanding and sensitivity. This also makes it more likely that trainees will find the content more engaging and relatable. Greetings, phraseology and interactions will vary greatly according to your targeted "local" audience. Accurate cultural references also help trainees to get the most from digital learning courses, animaitons and videos.
Legal Compliance: For some of our clients, especially those who work in compliant heavy sectors, such as pharmaceutical and medical devices it is a legal requirement to provide learning and development resources in their official language. Compliance-related courses that the team in Esus E-learning have worked on include data protection & GDPR, anti-money laundering, anti-bribery and corruption, and insider information & trading.
Health and Safety: Even when a clients core language is English, there is no  guarantee that all employees, who do speak it as their first language or have a good basic grasp of it, will fully understand the information that is being shared with them.  In the last 12 months we've working on environmental health and safety e-learning projects in course, animation and video format. These have covering employee H&S induction, contractor induction, driver health and safety induction, and site visitor induction. Research has shown that language barriers are a contributing factor in job-related accidents so translating e-learning material is critical from a health and safety perspective.
Best Practice when Translating Digital Learning Material
Shortcuts can often be taken when translating content but best practice dictates that material should be translated on a like-for-like basis, for local users, so that they can fully experience the e-learning course, animation, instructional video, etc. exactly as the original version was developed. This means that regardless of taking the course in English, Arabic or Simplified Chinese, the user experience is identical.
When working on translation projects, we ensure that all of the 'source assets' are localised. Source assets refer to anything contained within the material including but not limited to:
On-screen text
All audio content including voice-over script
Supporting documentation and resources
Glossary of terms
Video content including any on-screen captions callouts
Closed captions / subtitles
Any images, graphics or illustrations
All user interface elements such as navigation buttons
Other items to consider include the formatting of dates, times, currencies, units of measurement etc.  Subtle items such as gestures and scenarios also need to accurately reflect any local considerations and customs.
Non-alphabetic languages need to be given special consideration as these use writing systems other than the Latin alphabet. Examples include Chinese, Japanese, Arabic, Hebrew, and Russian. The Arabic language also reads from right to left so additional care need to be factored into planning these projects to cater for screen real estate, layout and formatting.
Planning for multilingual e-learning content from the outset can save significant time and cost and this pre-planning will also ensure that your project will run smoother and be more efficient, the key is to create content with translation in mind from the very beginning.  Esus worked on an e-learning translation project for a Cork-based client that had a requirement to translate the learning material into a mammoth 42 languages. The weeks we spent planning for this project paid dividends by factoring all of the 'watch-outs' in at the outset.
Robust Supporting Processes help Streamline Translation Project
We typically follow a 7 step process when working on translation projects. These steps apply to all of the digital learning solutions Esus provide including e-learning courses, instructional videos, explainer animations, gamified learning, learning infographics, and virtual reality experiences.
Step 1 – Course Preparation
In this first step, we prepare the course assets for analysis and subsequent translation including all script, on-screen text files, graphical assets, GUI assets, etc.
Step 2 – Asset Translation
We translate all assets including:
on-screen text and voice-over transcript
supporting documentation, resources, and glossary content
video content including closed captions and subtitles
images, graphics and illustrations
graphical user interface elements
Step 3 – Asset Review
The client reviews the translated assets and provides us with feedback and details on any changes they may require. We have a documented process and set of templates which we use on all projects to track these changes and ensure our clients requirements are being met. These have been refined and improved as we have worked over the last 19 years on e-learning translation projects.
Step 4 – Asset Update and VO Recording
Once the client has made any changes, we update all assets based on their requested changes.  Any changes are reflected in the client's 'translation memory' and we use this in the subsequent voice over recording session.
Step 5 – Asset Integration & Course Preparation
We integrate the translated e-learning course, video, animation assets and compile the material into the agreed translated languages. This results in a draft course, video or animation for review by the client.
Step 6 – Course Review
The client reviews the e-learning course, video or animation and provides us with feedback on the draft multimedia tool and requests any final voice over changes needed.
Step 7 – Course Update & Sign Off
Any requested voice over changes are made and the course, video or animation is updated for final sign-off by the client. Once this is done the finished product can be uploaded by the client to their Learning Management System in the required format be that SCORM 1.2, SCORM 2004, or TinCan / xAPI.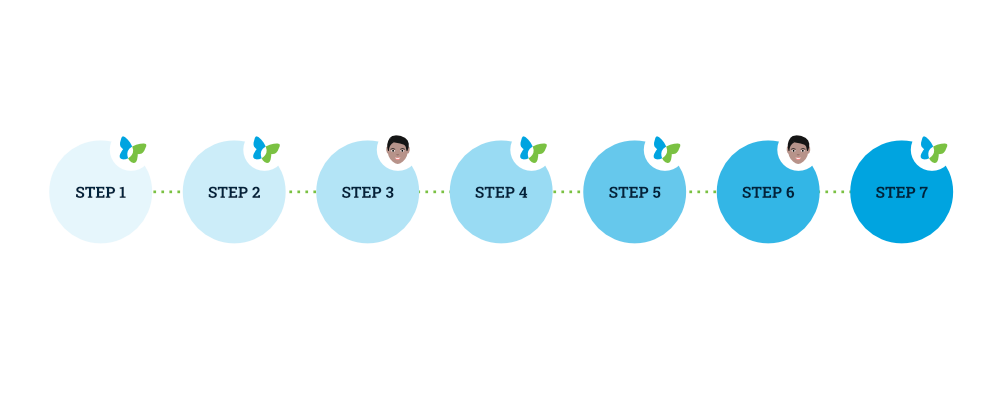 Samples of Recent E-Learning Translation Projects for Esus Clients
We pride ourselves on the breadth and depth of our experience in working on e-learning translation projects with clients in Ireland and internationally. We have had the privilege to collaborate with a variety of clients from diverse industries, including pharmaceutical, retail and food & drink.
In a recent partnership with a pharmaceutical company, we developed an e-learning course centred around their "Acceptable Use of IT Policy" where we produced this course in an impressive 42 languages. Our team's knowledge and cultural sensitivity ensured the translated content was accurate, relevant, and engaging, thus creating impactful learning material irrespective of geographical or linguistic barriers.
On another recent collaboration with a major global retail brand, we developed a suite of department specific e-learning courses and accompanying infographics, focused on Data Protection and Privacy, a critical area in today's digitally-driven world. Leveraging our project experience and insights, we successfully adapted this content into six different languages to resonate with global audiences, thus enhancing the understanding of, and engagement with, the material.
Finally, a food and drink manufacturer approached us to create health and safety animations for both its employees and external contractors. Central to the success of this project was ensuring that all of the critical messages and learning objectives were included in the course and reflected in a number of localised versions for the South American, Asian and Eastern European markets.
Advice on Translating E-Learning Courses, Animations, Videos and Games
We hope you found the above article helpful. If you need any assistance or guidance on an e-learning translation project, we would be delighted to speak to you to see if we can help. Please contact us on info@esus.ie.
Get In Touch
We'd love to hear from you...