Esus MD Concludes term as E-learning External Examiner at MTU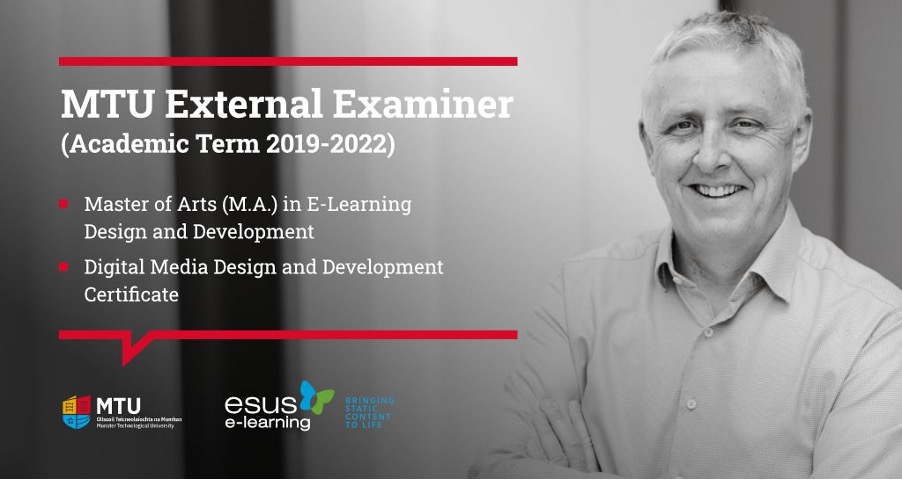 Esus' Managing Director, Gary O'Flynn, served as an External Examiner for the "Master of Arts (MA) in E-Learning Design and Development" and "Digital Media Design and Development Certificate" courses at Munster Technological University for the last 3 years. His term concluded in July 2022.
Gary thoroughly enjoyed his time in the role, "All good things must come to an end. It's been an honour to serve as an External Examiner for the "Master of Arts (MA) in E-Learning" and "Digital Media Certificate" courses at Munster Technological University".
Both digital learning courses are suitable for anyone currently considering a career in E-Learning or Digital Media industries and are equally beneficial to anyone currently working in those fields who may be interested in furthering their education or improving their skills. Gary highly recommends both, "For anyone considering a related career or interested in furthering their education & skills, I can highly recommend both as comprehensive, practical and well-run courses which prepare students for all aspects of working in the
#elearning and #digitalmedia industries."
As one of Ireland's leading e-learning providers, Esus works with global brands, both in Ireland and internationally spanning a range of industries including pharmaceutical, food & drink, medical devices, healthcare, cybersecurity and the public sector. Gary was clear on his role as External Examiner "As someone who has worked in the e-learning industry for 18 years, I was delighted to be able to be able to assist MTU. Our core focus is the development of customised e-learning programmes for large, corporate and enterprise clients so I had a good understanding of what practical skills are needed to work in the e-learning and digital media sectors. A lot of my recommendations in the role were to maintain a focus on, and continually re-assess, making the programme content as industry-relevant and workforce-appropriate as possible."
With the challenges of Covid over the past number of years, the External Examiner visits were moved online but the Technology Enhanced Learning (TEL) team in MTU were up to the challenge and the transition from in-person visits at their Cork Campus to online Zoom meetings was seamless. "Huge thanks to all the team in MTU, Dr. Gearóid Ó Súilleabháin, Jessica Shine, Val Renehan and Rose McGrath, for being such gracious hosts in the last 3 years. The standard of students was always extremely high so huge credit must also go to all of the lecturers involved."
Below you will find a brief description on each of the courses which will give you an idea of the objectives, content and the modules covered. Full details on both courses are available on the Munster Technological University website.
• Who is this e-learning programme aimed at?
This programme is aimed at those wishing to pursue a qualification in the e-learning sector to work as designers and developers on e-learning and learning technology projects.
• What skills are taught?
The programme produces developers of cutting edge, educationally effective e-learning solutions.
• What modules are covered?
The course modules include E-Learning Instructional Design, Education Research and Proposal, New Media Workplace, Narrative and Games for Learning and E-Learning Authoring. Semester 2 included an E-Learning Thesis and an E-Learning project.
• Who is this e-learning programme aimed at?
This programme is aimed at those with an interest in enriching their own work practices with key digital media skills and a deeper understanding of this field. It also allows them to take the first steps in beginning an actual career in the broad digital media industry. In this latter context, the award is accepted as a bridging route for applicants who are interested in undertaking the Master of Arts in E-learning Design & Development but who do not possess the pre-requisite digital media experience or qualifications.
• What skills are taught?
The programme provides students with a broad and practical introduction to the world of digital media design and development. Graduates leave equipped with fundamental skills and knowledge with regard to a wide range of modern digital media technologies and design solutions and will have a systematic understanding of the design and development process and of related job roles and industries.
• What modules are covered?
The course modules include Moving Image & Sound, Creative Strategies, Digital Culture, Interpreting Sound & Music, Multimedia Production, E-Learning and Web Design Basics
The MTU website gives full details of all modules for both courses. The website also has information on recommended textbooks, average weekly workload, assessments, and exams.
Want To Know More?
We hope you found this post helpful. If you are looking for any advice or guidance in relation to e-learning, digital learning initiatives or moving learning online, the team at Esus are delighted to help in any way we can. Please contact Esus at info@esus.ie.
Get In Touch
We'd love to hear from you...