Think effective E-Learning is just a recorded Zoom Call or PowerPoint??? Think Again!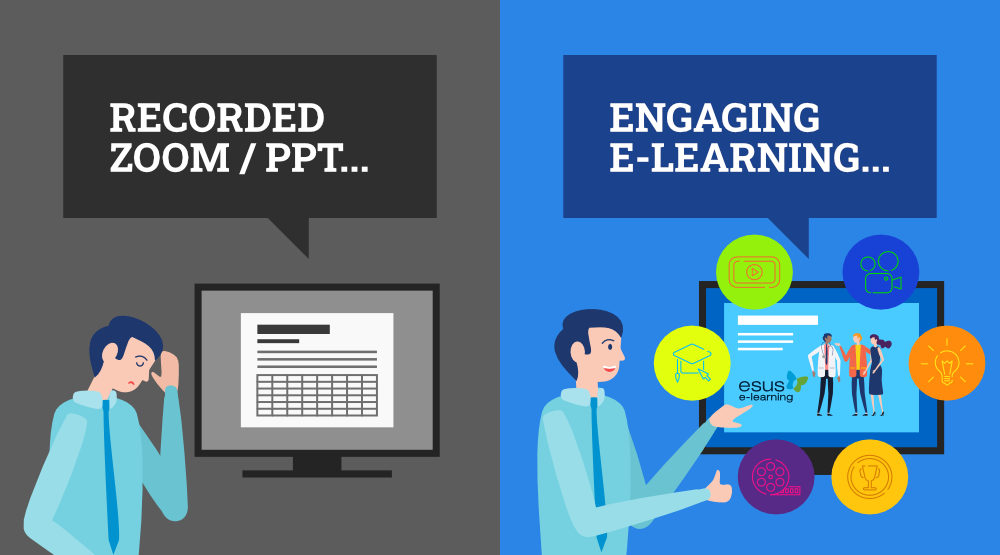 Over the past two and a half years we have seen many organisations moving their employee training online. With employees working from home organisations quickly realised that they were going to need to change how they approached employee learning and development. They also quickly realised that when it came to providing remote training and L&D solutions to employees remotely it was not going to be as simple as just publishing a recorded PowerPoint presentation or Zoom call online.
Presenting a course to a room full of people and providing an e-learning course online are two totally different learning solutions and are delivered in two totally different environments. When providing classroom based training you are relying on the trainer to keep the trainees attention, helping them to focus on the topic and ensuring that they understand and consume the material being delivered. If you simply take the presentation that the instructor is delivering and publish it online you are losing the major component and no matter how interesting the content is, trainees will not be actively engaged in the learning process.
Yes, recorded 'lift & shift' zoom meetings and PowerPoints do have a place where time and/or cost constraints require material to be published quickly and this was very evident during Covid.  However, even those formats can be enhanced by embedding them into SCORM courses with bespoke graphics, professional voice over and some interaction. But, given a little planning, time, and effort, online learning can easily be taken to the next level.
Truly effective e-learning solutions will engage users and make learning fun, they should be something people want to take as opposed to something people are required to take. By employing interactive click, hover, drag and drop elements in the online training or by making use of gamified content and context-relevant scenarios, the trainees are motivated to make decisions and learn in a fun and immersive environment.
We take clients existing material, be that a PowerPoint deck, training manual or policy document and transform it into an interactive e-learning solution. This is achieved by making the content short, sharp, and effective, the course needs to be long enough to inform but short enough to hold the attention of the trainees. Using real world examples, which trainees can easily relate to and creating memorable content that trainees want to consume, your classroom-based learning material quickly turns into a highly effective and engaging online course.
By identifying the key success metrics with a client at the beginning of a project, we can build the most appropriate solution for them. We offer many different flavours of digital learning including e-learning courses, corporate explainers, animations, instructional video, gamified learning content, promotional trailers, AR, and VR. These can be provided as stand-alone or blended solutions. We have created several demos which showcase the breadth of the e-learning solutions we offer, which you can view here.
Courses are designed with the aim of producing the right balance of content delivery and learner engagement, including animation of screen elements, supporting voice-over, short user-interaction pieces, optional quiz questions / assessments and a course certificate upon successful completion. Esus uses learning principles including cognitive load theory to provide a foundation for the development of client content. Our primary aim is to assure effective learner retention and required behaviour change. If your target audience is diverse, we can translate and localise the solution in up to 45 languages.
Esus E-learning script, design, and develop everything in-house and this ensures that we strike the right balance between function and form, guaranteeing that it works and looks well, that it is visually engaging, loyal to the client's brand and appropriate to the intended audience. This is why we continue to be so fortunate to work with organisations including PepsiCo, Pfizer, Primark, EU Agencies and various Government Departments.
Contact
We hope you found this post helpful. If you would like more information about how we can help you move your training online, increase your ROI, and how it can benefit your organisation, please contact Esus E-learning at info@esus.ie.
Get In Touch
We'd love to hear from you...