Continued Growth for Esus E-learning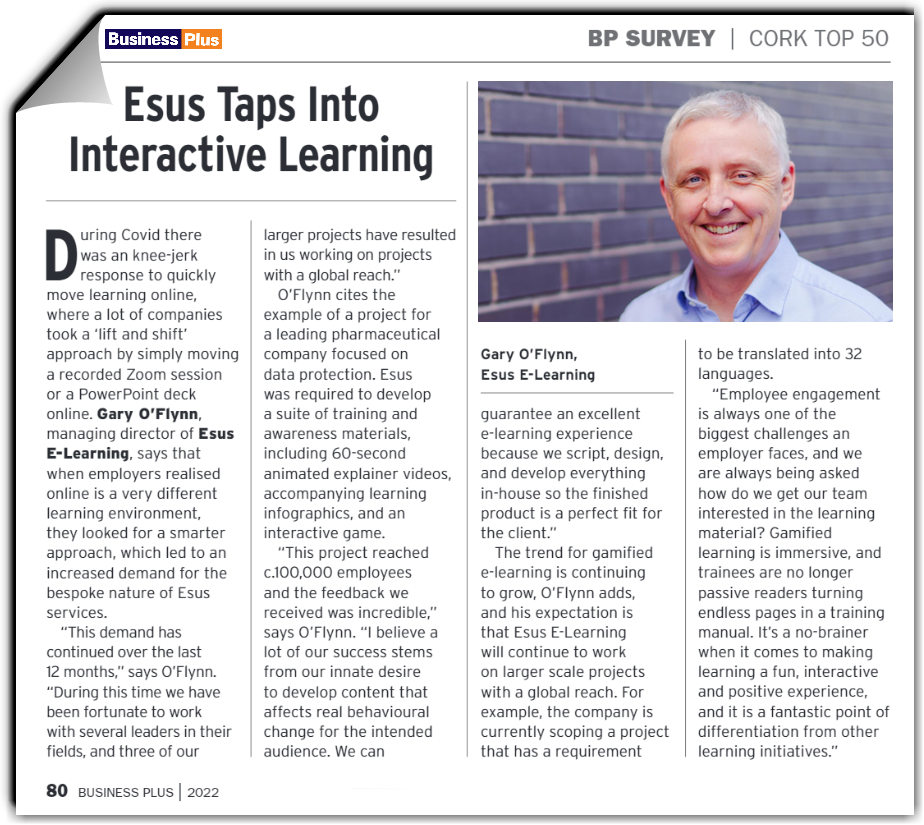 Our Managing Director, Gary O'Flynn, recently spoke to Business Plus magazine.  Profiled in the Cork Top 50 Companies' supplement, he spoke about how the smarter approach companies are taking to e-learning has led to an increased demand for the bespoke services Esus E-learning offer.
"In the last 12 months, we have been fortunate to work with several leaders in their fields and three of our larger projects have resulted in us working on projects with a global reach", according to Gary.
These projects included:
Creating a suite of induction modules for a large EU agency, containing multiple deliverables including e-learning modules, animations, and video content, the latter of which required travelling to multiple locations in Europe for video shoots earlier in 2022.
Working with one of the world's leading pharmaceutical companies to develop a suite of training and awareness materials including short, animated explainer videos, accompanying learning infographics and an interactive game. This project reached approximately 100K employees.
Delivering a conversion project for 300+ e-learning courses including multiple language translations for Brazilian Portuguese, Latin American Spanish, and Chinese. The bespoke process we devised is estimated by the client to have resulted in of approximately €1.4M of cost savings for this global leader in the Food & Drink sector.
You can read the full article above.  If you are looking for any advice or guidance in relation to e-learning, digital learning initiatives or moving learning online, the team at Esus E-learning are delighted to help in any way we can.
Please contact us at info@esus.ie.
Get In Touch
We'd love to hear from you...